Enthusiasm for cycling outdoors has been one of Ann's hobbies for decades.
Indoor cycling is a newer hobby she developed in 2010, and her passion for studio cycling is going strong!
The low impact and high efficiency of cycling make it an especially appealing aerobic activity. In addition to cycling events, Ann is also an active practitioner of yoga, pilates, and total body strength and conditioning workouts. All of these fitness modes enable her to maintain a functional fitness level in day-to-day activities.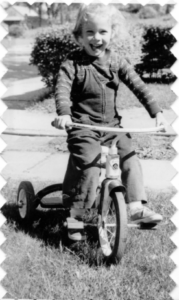 As an instructor, her goal is to enable others in this same manner. "Feel like a kid again, and always!"
Ann lives in central Vermont with her husband. She has three grown children, one grandchild, all with active lifestyles and a love of the outdoors.
Certified Spinning Instructor  (STAR Level 3)
Certified Group Fitness Instructor  (with a focus on studio cycling and a Mind-Body Specialty)
CPR/AED
Barre Above certified