Tom began spinning in 2013 and earned his Spinning instructor certification in 2016.
He grew up in Connecticut, lived in Indiana for 10 years, and when the opportunity arose in 2002 to get back to New England, he jumped at it and has lived in Central Vermont since.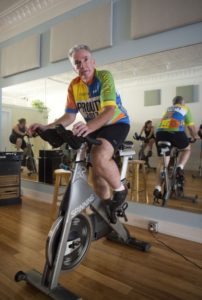 When the roads are free of ice and snow he is an avid road cyclist, and he likes to snowshoe whenever there's enough of the white stuff. He also squeezes in the occasional racquetball game!
If you're a cyclist looking for some good off-season structured training, and like music from the '50s to the '90s, give his class a try!