Alpenglow Fitness would be delighted to host your special private fitness or yoga party! Or bring yoga or private group fitness to you.
Host a one-of-a-kind special event with Alpenglow Fitness. From bridal showers to birthday parties, our experienced instructors will create a fun and healthy fitness experience tailored to your needs.
We specialize in private fitness parties, including:
Bridal showers and bachelorette parties
Bachelor parties
Corporate team building fitness classes
Student workshops
Birthday parties
Anniversary parties
We also offer a variety of group fitness options, including indoor cycling, cycling and strength, cycling and yoga, cycling and kickboxing, and more. Whether you're looking for a wedding yoga class, bachelor party workout, private birthday yoga, bachelorette fitness class, or any other private group fitness activity, we've got you covered.
We believe in love and are LGBTQ friendly/welcoming.
Please get in touch  or fill out the form for more information and pricing options.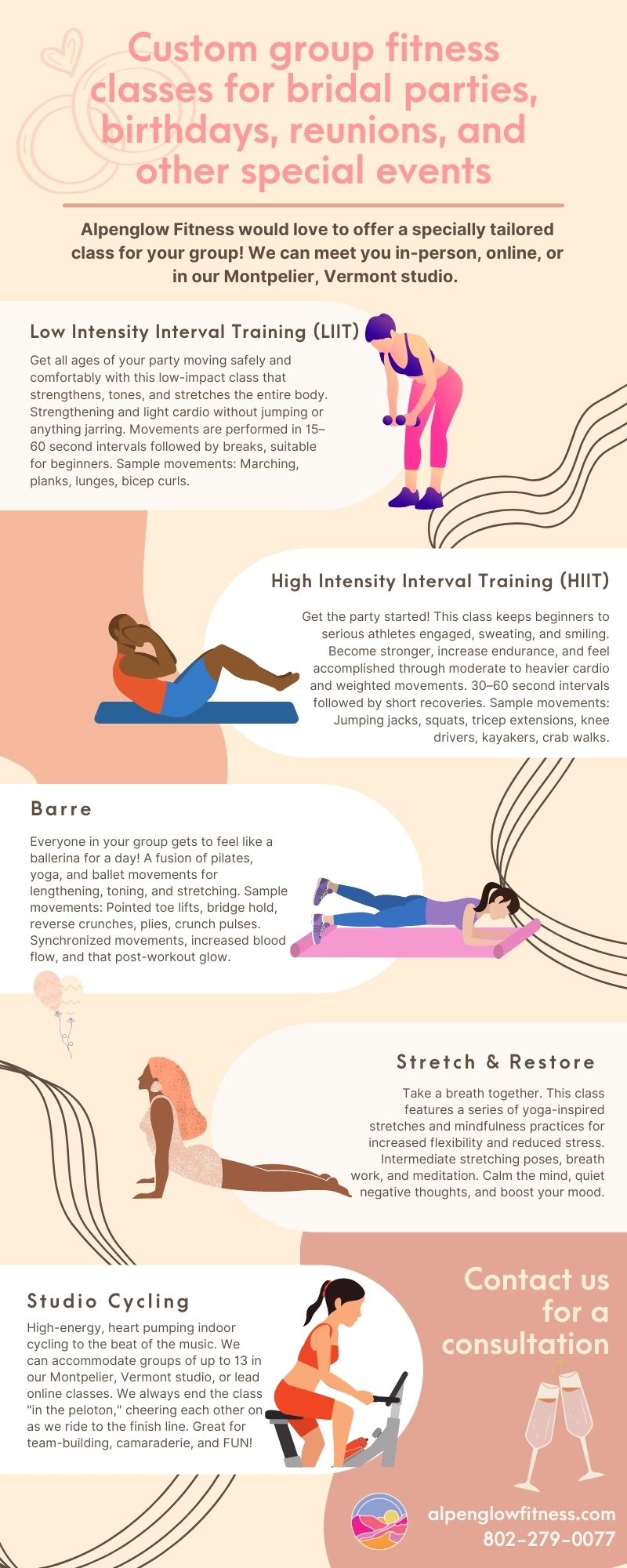 Contact us today to learn more
Please email us, [email protected] and we'll get back to you with more information.
If you stopped by before and used our contact form to reach out, we apologize — it was not working properly, so we didn't receive your email. Please contact us directly at the email above for more information. Thank you!
Would you like to host an event at Alpenglow?
From art shows to language clubs, Alpenglow offers rental meeting space for events and meetings in Montpelier, Vermont, and is available for your use on a one-time or ongoing basis. Affordable rates and beautiful space. Please get in touch for more information.
Are you interested in personal fitness?
Please let us know your needs and we will work with you to develop a private fitness lesson based around a one-on-one ride.